Ready to order compost by the bag or in bulk? Call, click or come by.
Rogue Compost offers consistent, high-quality compost — delivered to your door, available for pick up at the Transfer Station, or sold in bags at select local retailers throughout southern Oregon. It's never been easier to get potting mix, mulch and custom compost to suit your specific needs — including compost that's OMRI-certified for use in organic production.
From 1 to 60 yards delivered per trip
Delivery of 2 yard totes available
Options for delivery to small spaces
Pick up by the bag or truckload at the Transfer Station
Purchase bags at local retailers, listed below
Ordering compost for delivery
Rogue Compost has a full-service fleet of delivery trucks to meet your compost needs. We can deliver bulk products from 1 to 60 yards per trip, as well as handy 2-yard totes. With so many options, leave the hauling to us and relax.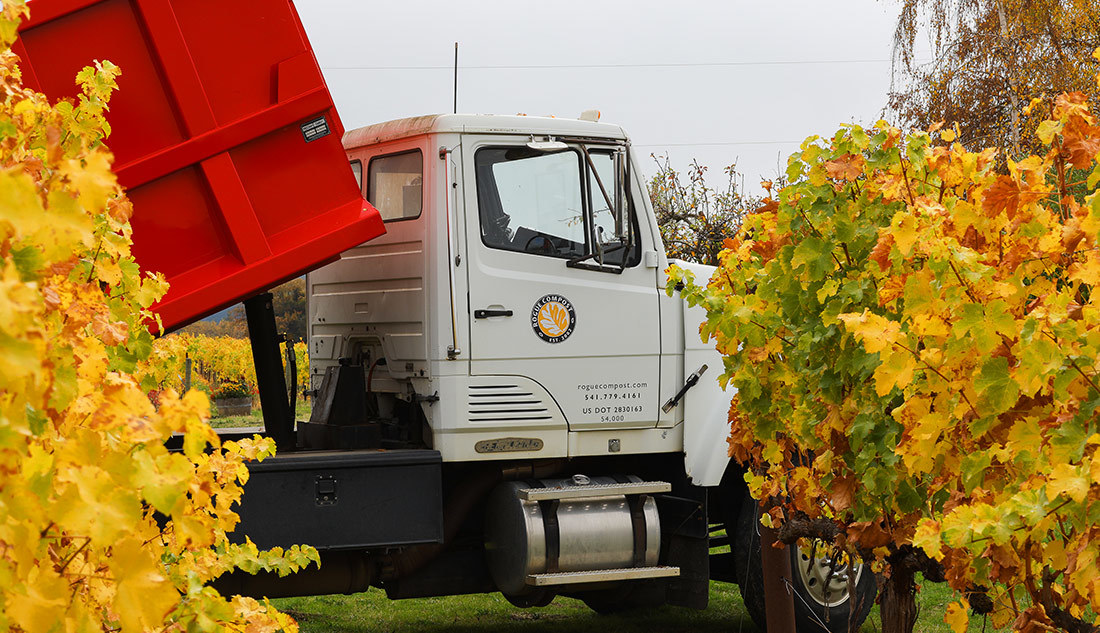 Delivery Options:
1 to 10 yards: Our single-axle dump truck can deliver one to 10 yards and excels at getting into smaller spaces. If you can park a good-sized car there, we can deliver it there!
Bags and totes: Our flatbed truck can transport a forklift to deliver and place 2-yard totes on and around your property.
Up to 45 yards: Our full-size dump truck can haul up to 25 yards in the truck and an additional 20 yards in the trailer. Because of the truck/trailer size, access may be limited based on site constraints.
Up to 60 yards: Our belt trailers can haul 50 to 60 yards per load, depending on the moisture content (weight) of the material you're having delivered.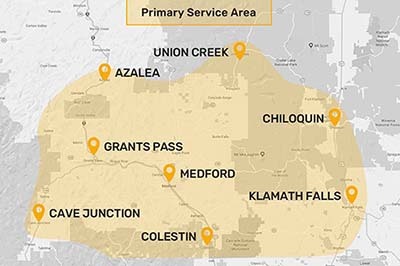 Delivery Area:

We deliver throughout southern Oregon. To see if you're in our delivery area, view our map or give us a call at 541.301.1873.






Picking up compost at the Transfer Station

At the Transfer Station in White City, you can pick up Fine Compost, Medium Compost, Grower's Blend and Red Bark. Rogue Medium Compost comes in bags or bulk, and all other composts and yard materials are sold in bulk, by the yard. Check the webcams to see what the line looks like right now.
Effective May 14, 2021 and until further notice, there is a temporary limit on bulk landscape material purchases — with the total quantity limited to 2 yards per vehicle. You can pick up two yards of the same landscape material, or one yard each of two different types of landscape material.
Once you're on site at the Transfer Station, head to the cashier to pay for your compost. You will then be directed to the compost pick up area to complete your purchase.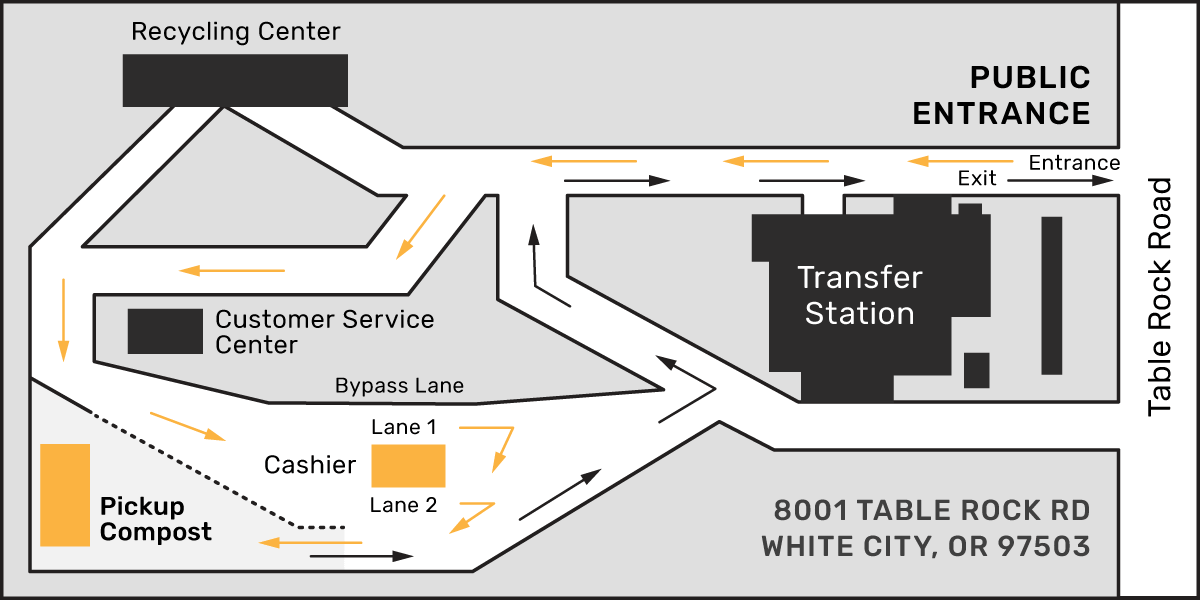 Transfer Station Address & Hours
The Transfer Station is located at:
8001 Table Rock Rd
White City, OR 97503

Compost is available:
Monday-Friday 7 am - 3 pm
Saturday (April-July) 8 am-12pm
Closed on Sunday
Holiday Hours:
Closed at Noon: July 4th, Christmas Eve, New Year's Eve
Closed All Day: Thanksgiving Day, Christmas Day, New Year's Day



Picking up compost at local retailers
You can also pick up Rogue Fine Compost by the bag at the following local retailers.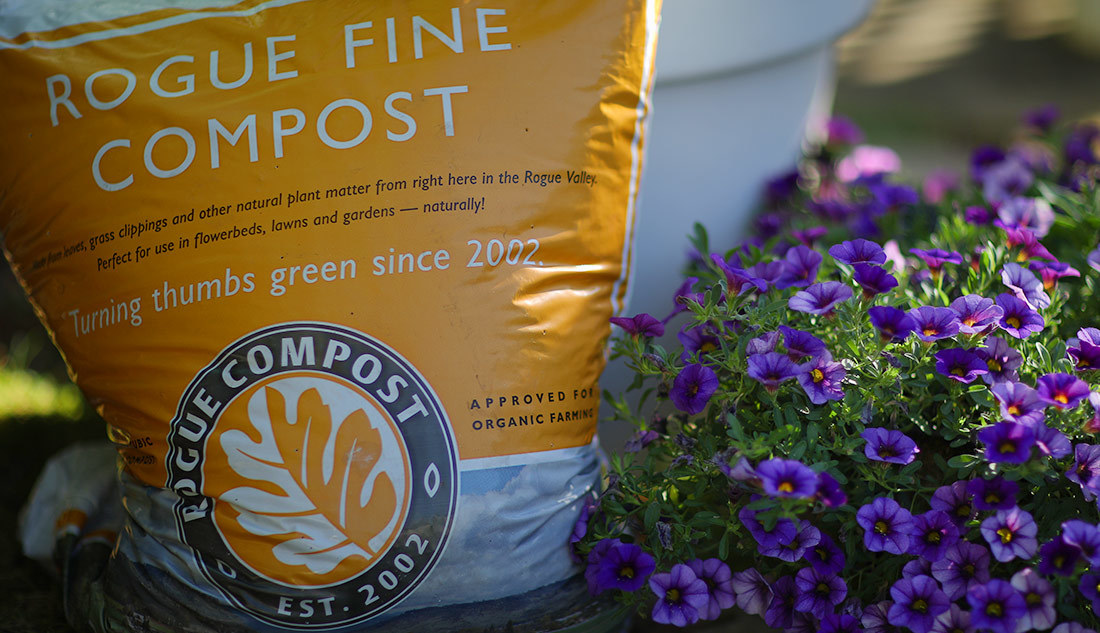 Black Bird Shopping Center
Address: 1810 West Main Street, Medford
Visit Website
Shooting Star Nursery
Address: 3223 Taylor Road, Central Point
Visit Website
Blue Fox AG
Phone: (503)516-4697

Penniesworth Acres Nursery
Address: 7016 New Hope Road, Grants Pass
Visit Website
Green Leaf Industries
Address: 150 Union Avenue, Grants Pass
Visit Website
ROCK'N SOIL
Address: 272 N Old Stage Rd, Cave Junction
Visit Website


Need to open a commercial compost credit account?
Request your order today!
Request an order online and an account representative will get back to you shortly to complete your order and schedule a delivery.
Start Your Request